I'm sitting in my sofa, a blanket over my legs, the last lights of the afternoon entering smoothly through the window. A cool breeze is petting the trees outside and dark clouds are moving fast towards the town, above the mountains. I'm reading a book and I'm fully immersed in the words.
That, for good or bad, has been a recurring scene in my life. Books have always been a good companion of my, may they have been just readings for entertainment or study. Whatever I'm interested in the moment, I'll look for new perspectives in books.
So when I had made my mind clear that I wanted to pursue a creative career, preferably as an artist and my own boss, I started looking for books that could inspire, motivate and teach me a way. Books for creatives. And, of all of them, I'm bringing you a list of the ones more relevant.
But this is more than a list. Because as I'm getting used to highlighting I though it would be great to share some of my favourite quotes with you. (If you like what you read, maybe you could ask for some of these books this xmas… 😉 )
My selection of books for creatives
1- (a combo) Show your work /&/ Steal like an artist by Austin Kleon
Austin Kleon is an artist and writer. In his first book, Steal like an artist, he talks about having references while working and how it is ok to "copy" to learn or get inspired to develop your own work. As this one is interesting, I found much more useful the Show your work book. Basically it talks about what the title says : how and why you should share more of what you're doing like an artist and how that can help you, your process and your success building an audience. These books are like the business side of the creative life.
Want to have a look inside? Here are some of my favourite quotes of Kleon's books. You can also visit his site and blog to find out more.
– "Once a day, after you've done your day's work, go back to your documentation and find one little piece of your process that you can share. Where you are in your process will determine what that piece is. If you're in the very early stages, share your influences and what's inspiring you. If you're in the middle of executing a project, write about your methods or share works in progress. If you've just completed a project, show the final product, share scraps from the cutting-room floor, or write about what you learned. If you have lots of projects out into the world, you can report on how they're doing—you can tell stories about how people are interacting with your work."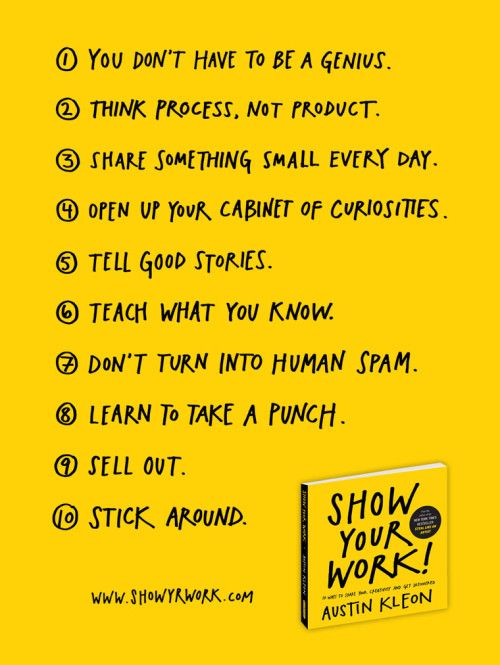 – "Ask yourself, "Is this helpful? Is it entertaining? Is it something I'd be comfortable with my boss or my mother seeing?"
– "If you want to be more effective when sharing yourself and your work, you need to become a better storyteller. You need to know what a good story is and how to tell one."
– "What do you do? What are your 'recipes'? What's your 'cookbook'? What can you tell the world about how you operate that's informative, educational, and promotional?"
– "If you want fans, you have to be a fan first. If you want to be accepted by a community, you have to first be a good citizen of that community. If you're only pointing to your own stuff online, you're doing it wrong. You have to be a connector. The writer Blake Butler calls this being an open node. If you want to get, you have to give. If you want to be noticed, you have to notice."
– "Work is never finished, only abandoned." —Paul Valéry"
– "My interest in making music has been to create something that does not exist that I would like to listen to. I wanted to hear music that had not yet happened, by putting together things that suggested a new thing which did not yet exist." —Brian Eno"
– "We want you to take from us. We want you, at first, to steal from us, because you can't steal. You will take what we give you and you will put it in your own voice and that's how you will find your voice. And that's how you begin. And then one day someone will steal from you."—Francis Ford Coppola"
– " The writer Wilson Mizner said if you copy from one author, it's plagiarism, but if you copy from many, it's research."
– "First, you have to figure out who to copy. Second, you have to figure out what to copy."
– "You start out as a phony and become real." —Glenn O'Brien"
– "Ask anybody doing truly creative work, and they'll tell youthe truth: They don't know where the good stuff comes from. They just show up to do their thing. Every day."– "It is better to take what does not belong to you than to let it lie around neglected." —Mark Twain"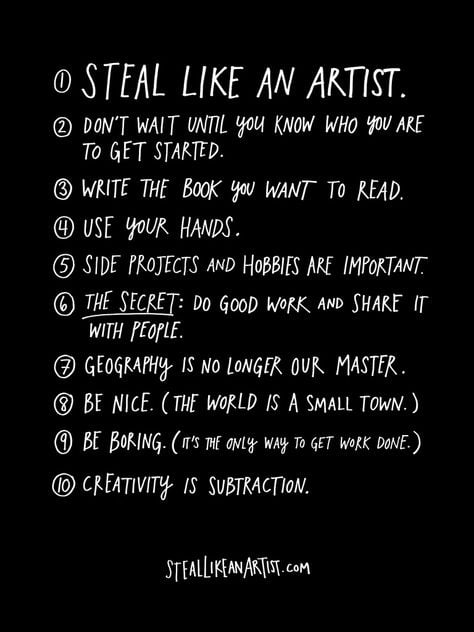 – "Google everything. I mean everything. Google your dreams, Google your problems. Don't ask a question before you Google it. You'll either find the answer or you'll come up with a better question."
– "Whether I went to school or not, I would always study." —RZA"
– "The manifesto is this: Draw the art you want to see, start the business you want to run, play the music you want to hear, write the books you want to read, build the products you want to use—do the work you want to see done."
– "Be regular and orderly in your life, so that you may be violent and original in your work." —Gustave Flaubert"
– "If you ask yourself 'What's the best thing that happened today?' it actually forces a certain kind of cheerful retrospection that pulls up from the recent past things to write about that you wouldn't otherwise think about. If you ask yourself 'What happened today?' it's very likely that you're going to remember the worst thing, because you've had to deal with it—you've had to rush somewhere or somebody said "something mean to you—that's what you're going to remember. But if you ask what the best thing is, it's going to be some particular slant of light, or some wonderful expression somebody had, or some particularly delicious salad." —Nicholson Baker"
2- My second recommendation is Big magic, by Elizabeth Gilbert
The author of Eat, Pray, Love wrote a book about her creative process, how she sees inspiration and how she treats every step of it.
Even I don't resonate with every chapter, there is much to it that I do like, find inspiring and empowering. So that's what my selected quotes are about.
– " Do you have the courage to bring forth the treasures that are hidden within you?"
– "I'm talking about living a life that is driven more strongly by curiosity than by fear"
– "Argue for your limitations and you get to keep them"
– "Your fear will always be triggered by your creativity, because creativity asks you to enter into realms of uncertain outcome, and fear hates uncertain outcome."
– " I felt like I was falling in love, or had just heard alarming news, or was looking over a precipice at something beautiful and mesmerizing but dangerous. […] I believe I can confidently call it by its name: inspiration"
– " Whatever is bad for you is probably also bad for your work"
– " You can support other people in their creative efforts, acknowledging the truth that there's plenty of room for everyone. You can measure your worth by your dedication to your path, not by your successes or failures."
– " You might earn a living with your pursuits or you might not, but you can recognize that this is not really the point."
– " I don't know what I think until I write about it" Joan Didion
– " Romans didn't believe that an exceptionally gifted person was a genius; they believed that an exceptionally gifted person had a genius."
– "… in the end, creativity is a gift to the creator, not just a gift to the audience"
– " I thank creativity for allowing me to engage with it at all. Because either way, it's all kind of amazing – what we get to do, what we get to attempt, what we sometimes get to commune with."
– " You do not need anybody's permission to live a creative life"
– " Most things have already been done – but they haven't been done by you."
– "Just say what you want to say, then, and say it with all your heart. Share whatever you are driven to share. If it's authentic enough, believe me – it will feel original."
– " You are not required to save the world with your creativity"
– " At the end of the day, I do what I do because I like doing it"
– "Your own reasons to create are reason enough"
– " Follow your own fascinations, obsessions, and compulsions. Trust them. Create whatever causes a revolutions in your heart. The rest of it will take care of itself."
– " If you're working on your craft every day on your own, with steady discipline and love, then you are already for real as a creator."
– " When we look at your work […] we will want to feel your youth"
– "We need your work in order to enrich and inform our own lives"
– " It's difficult to create things; if it wasn't difficult, everyone would be doing it, and it wouldn't be special or interesting"
– " Be the weirdo who dares to enjoy"
– " Let people be in love with their opinions […] and just keep doing your thing […] The reaction doesn't belong to you"
– " Make absolutely whatever you want to make. It's nobody's business but your own"
– "Everybody imitates before they can innovate"
– " Holding yourself together through all the phases of creation is where the real work lies."
– " It's far more honourable to stay in the game – even if you're objectively failing at the game – than to excuse yourself from participation because of your delicate sensibilities. But in order to stay in the game you must let go of your fantasy of perfection"
– " Give your mind a job to do, or else it will find a job to do, and you might not like the job it invents."
– " At the end of your creative adventure, you have a souvenir"
– " You are free, because everyone is too busy fussing over themselves to worry that much about you"
– " A good plan violently executed now is better than a perfect plan executed next week" General George Patton
– " The work wants be made, and it wants to be made through you"
– " The lightly you can pass the time, the brighter your existence becomes."
I have selected three more creative books… but I'm worried you could get an overdose of creative advice so 'm going to share the rest next week, with the second part of this post.
In the meanwhile…

---
Sign up to my newsletter and find new posts directly on your inbox.
Or help me spread the word sharing the post with these nice little buttons down here. 😘