You know, where there's change, or where there's a problem, there's an opportunity.
And even though I hate being forced to be kept at home, I may not deny that these days could be really productive if I do things well. But they should be fun as well.
So I'm doing this mini-challenge of dressing up everyday as if I was going to work and sharing it – and hopefully it won't be just another selfie post for Instagram.
Is that vanity? Is that a waste of time? I like to think that I'm practicing some skills : I'm styling, I'm making aesthetic decisions, I'm getting practice with my new camera, getting comfortable with how I look and the act of sharing it. And I love when clothing reflects how you feel inside!
Is this all?
Hahaha nop. I have plenty of creative projects waiting for my attention. And a lot of resources to check up, and actual work. But you know what, as I can't pursue a balance in life (no meeting with people, no swimming, no surfing, no running, no biking, no beach time…) I may try at least to juggle different kinds of projects that can help me hone my skills. In this way, even if I don't accomplish and finish all my projects, I will have improved myself!
What's the point, if nobody sees it?
Would you dress up if no one could see you? In the past, I wouldn't. When the days come and go and nothing changes, it's easy to lose motivation (for anything) as there is no compensation waiting for you in a foreseeable future. Although, guess what? There will never be. The motivation that you need is knowing that in the future you'll be a better version of yourself because you did what you thought you had to do. You decided it, you struggled in its pursuit but you did it, even if some days you failed. You progressed, you made an effort, and that's what really counts. Even if nobody sees it. You know it. Every past experience adds up to who you are becoming, even if it doesn't show.
While staying home these days, nobody sees us if we don't show up on social media (or personal messaging / calls / DMs). But we still decide how to do it. Will you be sharing this exceptional meal you've just cooked? Will you be showing your past vacations? Or will you enjoy this time on your own to do the work that is never shown? Like the household duties, the studying, the listening to your own desires?
We have temporarily lost the freedom to go out, but we have won the freedom to stay in, to stay invisible, to do our own without asking for permission or approval. Let's take advantage of that. And let's keep our minds sane.
To Be Updated – daily
Sunday 22/03
This weekend had a special feeling. Like time has been paused, like there was more silence in the world (probably there was). This is the start of some weeks that will be different. Trying to be positive here, but I already liked how weeks were. With no outdoor activities to do, it's time to be creative and do more of the indoors stuff. But…
Monday 23/03
It's never a good day when you start it by having to erase the hard-drive of your computer. So I got a busy techy day, trying to make my Macbook come back to its full functionality. But no time is ever wasted, so I cleaned my car 😛
I spent sometime too dreaming up this fantasy like scenario, peacefully playing with a typewriter, worrying about nothing else than the letters on the paper…
But on these calm days, I feel everything but peace…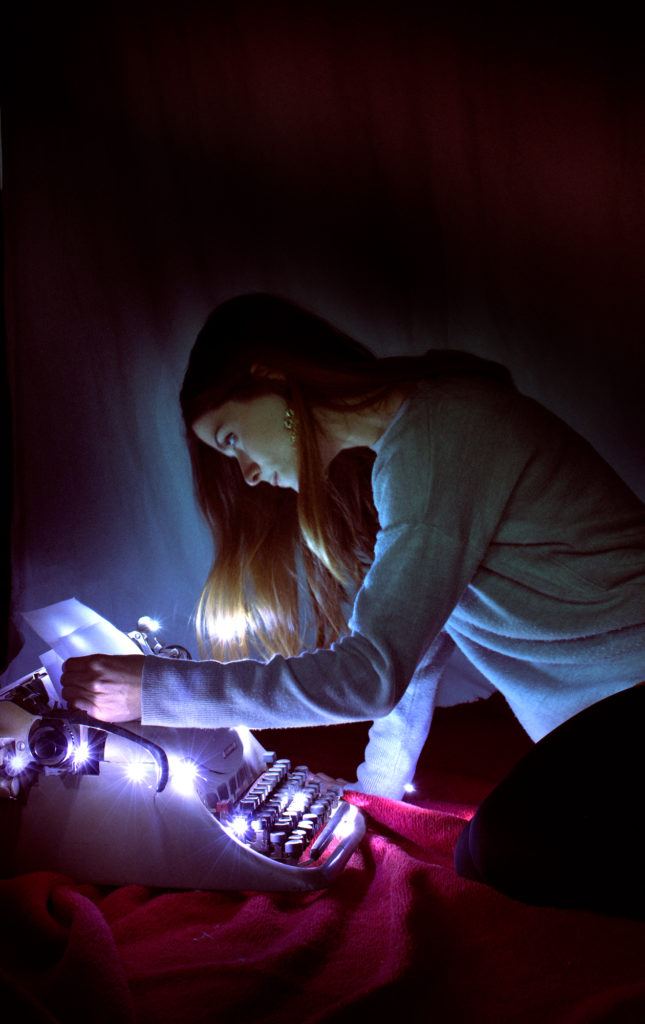 Tuesday 24/03
You know what? I've been wanting to wear this blazer since the day I got it. So, I thought, well, as it doesn't seem as if I'm gonna have the opportunity right away, why don't just wear it today? So yes, I loved working from home with this on. Why wear pajamas when you can look busy-chic?
Wednesday 25/03
Chose to show up on a quite cold and sad Wednesday in pink and black, heavy textured items. Maybe too much of a soft look for such a moody day. Wanted to bring in some light, but only got new shadows (did you get it ;)?
Thursday 26/03
Did I see the light? There actually was a window of time during midday when the sun finally shone in the sky. Then, it actually rained. When Thursday arrives, I always feel like the week passed by too quickly. It was no exception. I woke up with a firm intention though, that even if I'm not gonna be on fire all the time these days I'll be making an effort to try to change my scattered self to a focused one. I'm well-known in my circles for always being over the place, I like so many things that I'm always pursuing multiple interests at the same time. It's a great way to have a broad view of the world but also a good one for not going deep into anything. Now, it may take me a while to learn how to stop the multitasking, the multi-interesting thing, however, I must start at some point.
And because I woke up full of energy, I got myself my brown ankle boots, a pair of shorts with hose and a jersey to be comfy and casual. Ready for my tea party with my zoom friends. But where's the booze?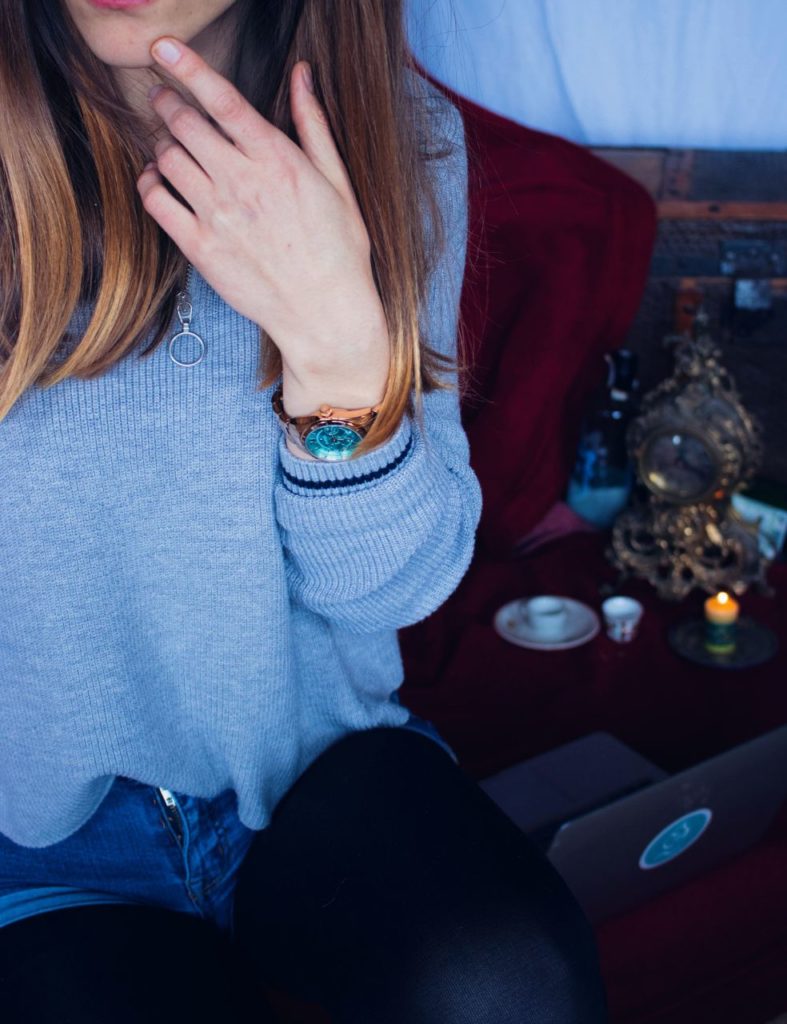 Friday 27/03
There's been moments of sunshine, so we can say the week has improved! Apart from that, though…
Saturday-Sunday 28/03-29/03
Let me take a break and reflect. The weekend calls for time away from the week routine, even in these lock-down days. I'd like to be able to embrace it like any other day and spend many hours on my computer, but, after being used to using the weekends for doing very different things, it's not easy to not to do so. And yes, I skipped this commitment for the whole weekend. How embarrassing… Well, not really. Saturday was for exercising, cleaning, watching a movie and doing some crafts. Sunday was for sleeping until late -it seems I needed it, as I didn't hear the alarm go off- cooking, painting and a bit of computer projects. I could have shared my go-to-gym clothes, but… Better days will come.
Monday 30/03
Do you know something I really love about working from an office, with set hours? You can't get bothered with tasks that are not part of the job, no personal life or personal projects coming in. Time is completely blocked. That's something I rarely get at home. Part of it is my fault, but it's just easier for anyone or anything to take your attention away, especially when you don't live alone. I honestly have a great admiration for parents and the like who manage to work from home. I should find my situation so easy!
But anyways, today I'm showing up again! Got the comfiest pants in the world, super-stretchy black corduroy plus the basic black blazer. And heels. Because you get a better view of the week over heels. 😛 Pink sweater underneath.
And guess what? Today snowed. 🤦‍♀️
On other news, I decided that today's the last update for this post. I may keep on with something similar (probably a Me-Made-May article) but won't be updating it everyday. Let's see if I can create less quantity and more quality for the next edition. Also, doing tasks in bulks is more productive and I have to focus, so… See you at the end of the week!