Oh my girl! Did I forget to mention that I was away for a month? I can be such a bad person at times…
Well, the thing is we (my bf and I) went on a holiday to the Philippines!! So exciting. Had never been on a travel like that: to Indonesia, different culture, tropical climate and coconuts and palm trees everywhere! We visited Cebu, went to Bohol and stayed most of the time to the beautiful island of Siargao. I could write about the travel for hours, but I just want to explain you the things I loved the most that weren't the main touristic activities of Siargao.
So, let's deep in!
1- First of all, what we did first. Visiting a big city 
(Please, forgive me! This is not something you're gonna do in Siargao, but you may need to in order to get there). Which was Cebu. We arrived at the Mactan-Cebu airport and found our way (thanks to many nice filipinos) to our guesthouse in the center of Cebu, taking many jeepney's and seeing the afternoon get darker and darker. We stayed two days and came for another one before leaving. Did we love the city? No. Did we enjoy it? Not so much. What was undeniable is that it's something worth to experience for a day at least. Bohol and Siargao are beautiful islands, plenty of little villages and a couple of small cities, but they look not much alike. It's a different world. Cebu is crowded, the traffic is insane, the electric cables can't say if look crazy or they are art… There is poverty and there are also the commodities and shops that we see in Europe. A place of contrasts. Eating out can be very cheap if you do so in local streets.
2- Next thing you'll love to do is to find a paradisiac spot.
Yeah, something like this.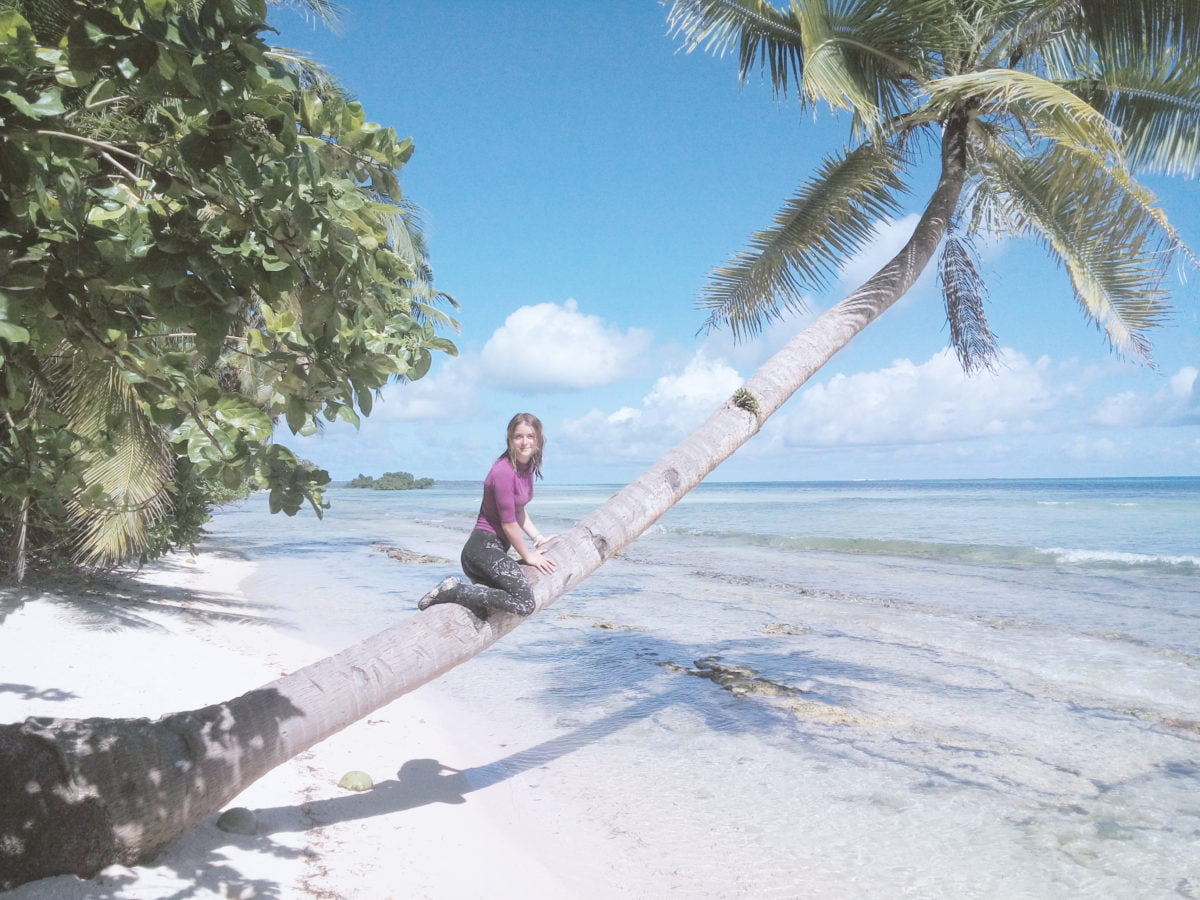 Who haven't dreamed about some palm-trees like that, by a white sand beach and crystal clear waters? Dream *completed*!
As we stayed over 20 days in Siargao, we had to spend quite some time in the beach, so this one was always first on the list. I think its name was Paradise Beach 😛 For those who surf, G-spot and Magic spot are pretty close, but far enough so we hadn't to share a piece of beach with anyone!
3- A similar one, but not the same: explore *your* beach!
As you can imagine, there are many beaches in an island. Though Siargao is small, you still can try and find one nobody talked to you about. We did spent days going into little trips to new places with our motorbike and find some really nice places. Where we could relax, see a special village, an island or just snorkeling. Also bathing into rockpools. (There is a main attraction in Siargao called Magpupunko, which is a very beautiful rock-pool, but you may find some other beaches full of little rock-pools as well). We enjoyed one like this, and it was wonderful. Hot water, peace, silence and crashing waves on the horizon. Have in mind that they usually are rock-pools only when the tide is low. So it's always good to know the tide times, as even paradisiac beaches doesn't look  the same in low tide than in high tide (you can ask a surfer to help you 😉 ).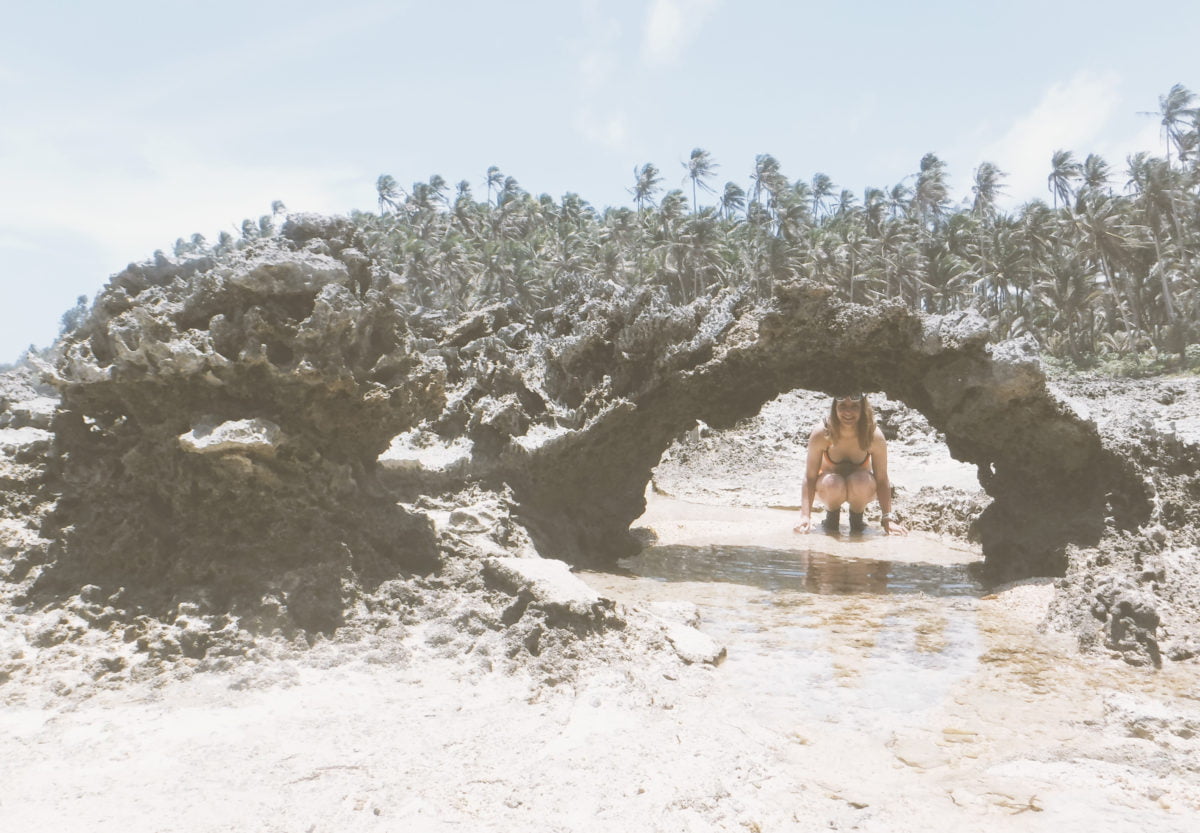 You may even find your desert island. (My take though? I don't ever want to be left in a desert island without a boat to get back).
4- Something tasty!
Go to a bakery and shop and try everything! (Ok, almost everything.) Pastries are very unexpensive and quite good. When we discovered them we couldn't stop taking some for breakfast, afternoon snack… until we get bored. They are different to what I'm used to, quite fluffy. I loved the ones with something purple. They usually seemed to have chocolate and then we would find out that it was actually this purple thing (called "ube"). What's typical in Siargao is "pan de surf" (surf's bread), called like this because the shape of this small bread resembles a surfboard. You can find women baking them by the roads, burning coconuts. Also, they make "pan de coco" too, which is very good and tasty when still warm.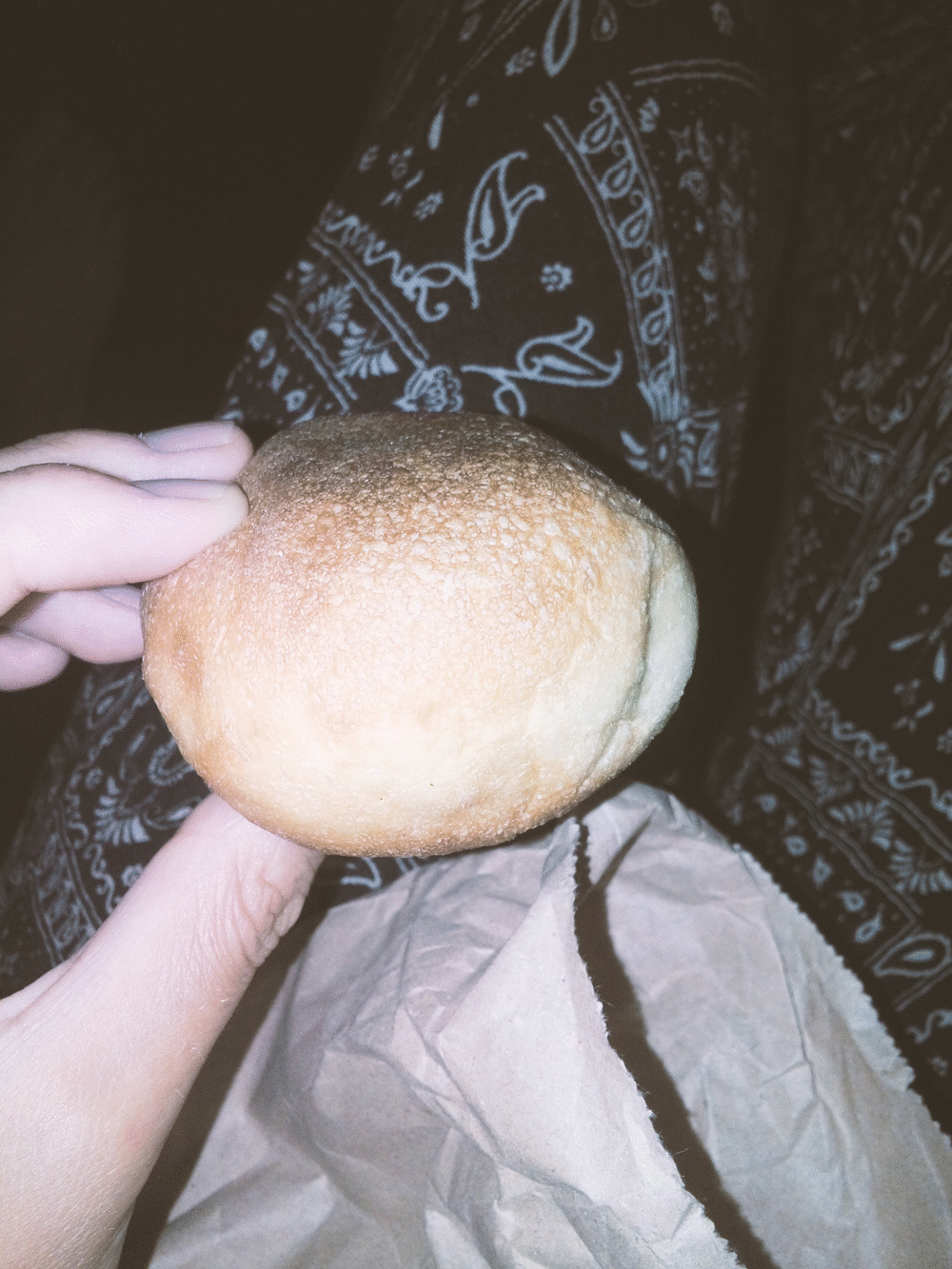 5 – Watching fireflies.
It came almost a surprise. I knew there were fireflies on the island but never thought about it. Then, in the way back to the cottage after a walk by the sea at sunset, we spotted them for the first time. It was already dark and looking to the side of palm-trees and gardens you could see very bright points moving in the dark. I've seen fireflies before, but never so bright. At the first moment I thought it was a spark or something similar. Then, other nights cruising on the motorbike we would spot more of them flying into the jungle.
6 – Step out of the beaten road.
Siargao is mainly an island with a big road that goes all along the coast, in a circular circuit and also crosses in the middle. A part from this, you may found some smaller roads and paths that will take you to villages, rural homes or just palm-trees. But who knows what can be hidden into the jungle?
We followed some small roads off the way to get to beautiful villages and also into the jungle. It's not like the great imaginary tropical jungle we usually have in mind. Not so many colourful animals and rare plants. But you'll surely spot some wonderful butterflies, small flowers and big leafs.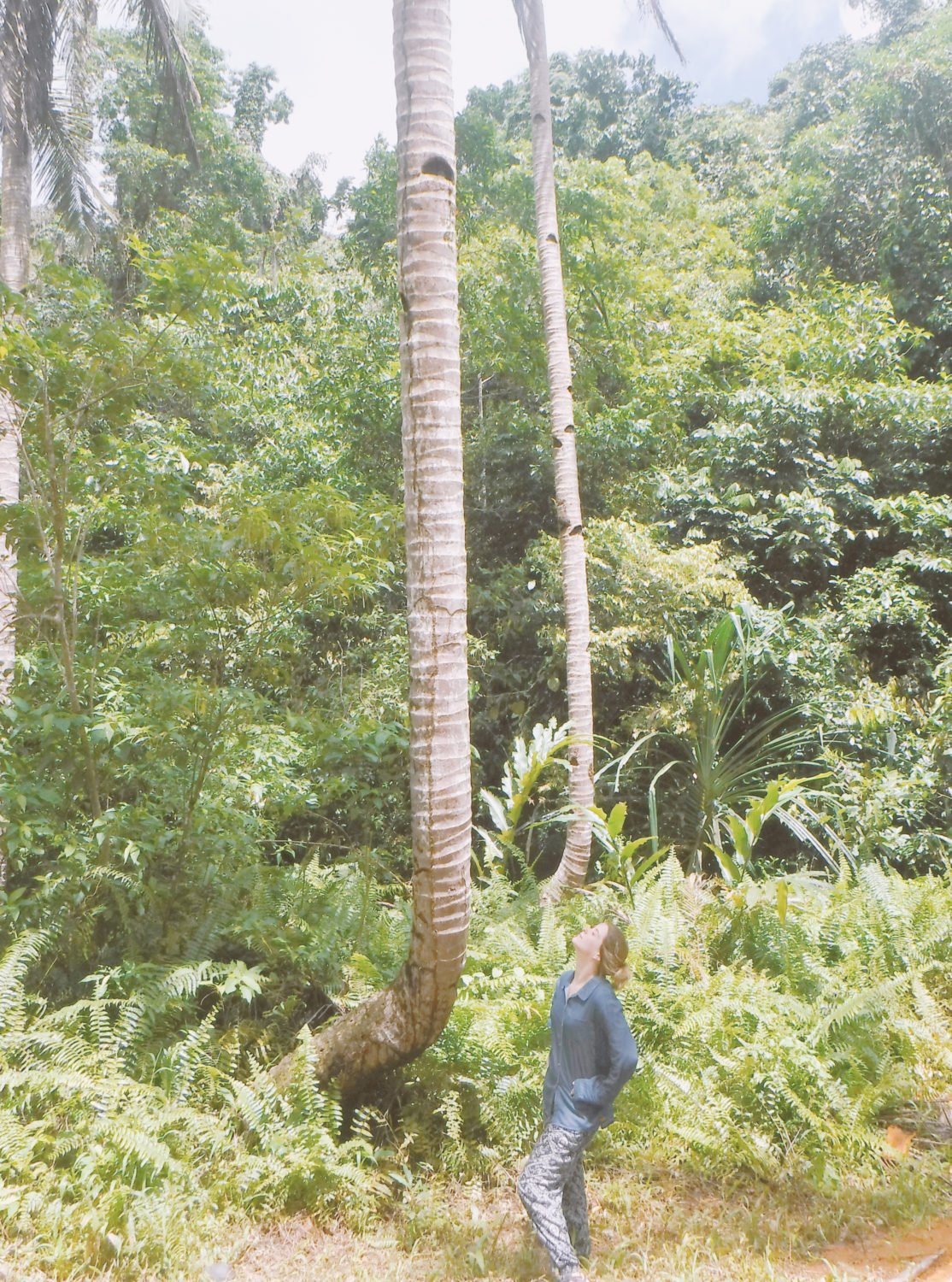 7- Be sure to know and go do some activities that you enjoy.
There may be days when it rains, or you have nothing to see or just want to not sit on the motorbike for two hours. So it will be helpful to know some activities you'll enjoy doing. In my case, I had very good times taking pictures (what you see here is the top of the iceberg), we also enjoyed very much snorkelling and looking for shells and submarine life (so many starfish!!!). We "even" surfed! (That was on the list for sure). We also had some books with us, went to bars and the like, played and trained in the common area of our accommodation, etc.
8- *Bonus point!*  Bring good company (or find it along the way)
What else I wouldn't like to miss
Visiting Bohol. I loved seeing the tarsiers, the Chocolate Hills and getting all over the island with the motorbike.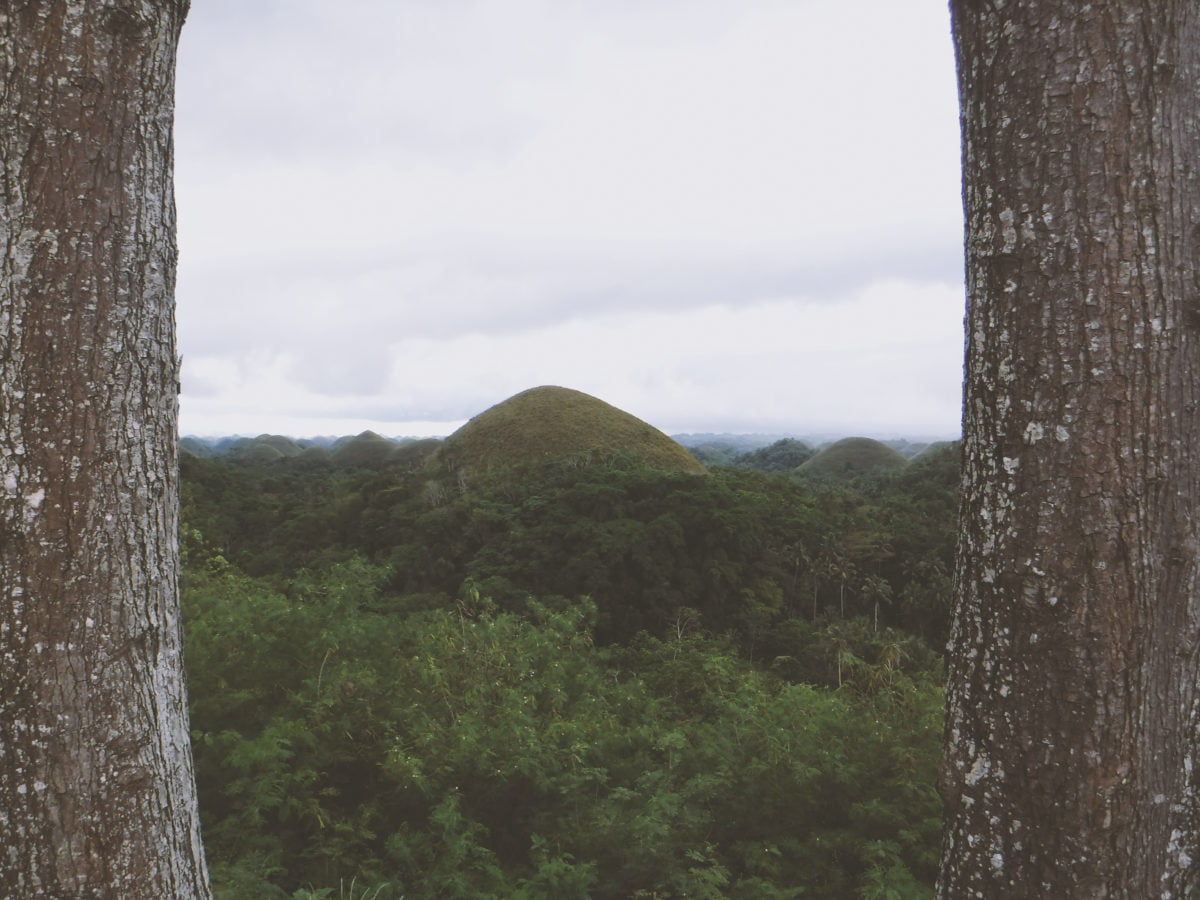 Spending some time with locals was also great. Kids were always happy to meet us and in most villages people were also very friendly. And getting to far villages always offered a new wonderful scenery.
Facts and tips about Siargao
It's getting more popular and you may need to book your hotel previously or be able to change plans.
Because it's more of a touristic place, prices get a bit more expensive than in others places of the Philippines.
Most tourists stay in General Luna. You won't find so many foreigners while exploring the island. It's also where you'll find more accommodation options.
If you have questions, I can answer them (from my experience)… Because there are too many things that could be said.
You may want to check out the prints, clothing and homeware I designed inspired by this travel called the Tropical Fantasy Collection in the Shop.